St. George's Foundry Co. (after 1885 called St. George's Engineering Co.) started building bicycles in 1881 under the brand names of Rapid and Dispatch. After 1885 the brand became New Rapid and the newly introduced bike with tangent spokes is a real beauty. It has hollow rims front and rear and some even seemed to have a ball head.
The famous Victor Light Roadster is an American copy of this model.


From 1886 onward New Rapid also built safeties and in 1893 the name of the firm became officially The New Rapid Cycle Co. Ltd.
The very original bicycle on the pictures belongs to Guglielmo from Italy. Thanks for the pictures! This bicycle has no ball head and a Bown Aeolus rear hub.
A lot of parts are numbered 2970, only handlebars and brake lever are numbered 3791. I guess they have been changed on demand of the owner, or (more likely) after a crash. The Humber-type saddle spring is also numbered 2970, so it must have been originally fitted.
The British site of Eriding shows two models of the New Rapid, the 1887 and 1888 version. I once had the honour of riding the brown 56 inch model and it was so good: it felt like new.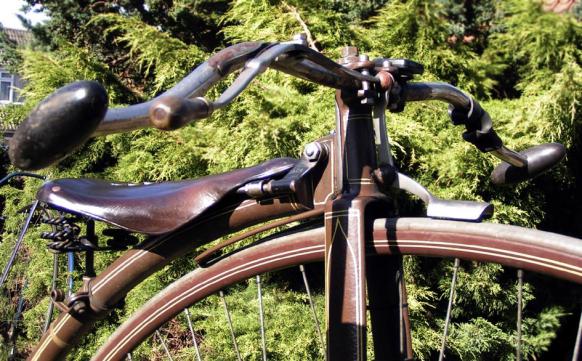 Most of the above information was found in the Encyclopaedia of Cycle Manufacturers (Ray Miller, VCC)